LiveDataset
Add Calculated Columns
Add Calculated Columns
What are Calculated Columns?
A dataset column can be calculated from other columns by selecting the "Formula" column type and entering a formula. This formula will be automatically calculated for all entries in the dataset, including future entries added to the dataset.
This dataset has 2 calculated columns showing percentage of sales target achieved and if a bonus has been awarded. Calculated columns are always shown with a grey background as the values are read-only.

How to Add a Calculated Column
Modify the dataset and add a column, selecting "Formula" as the column type. Then enter a formula. The results of the formula can be shown as Text or Number.
TIP Press Edit if the Formula Settings are not shown.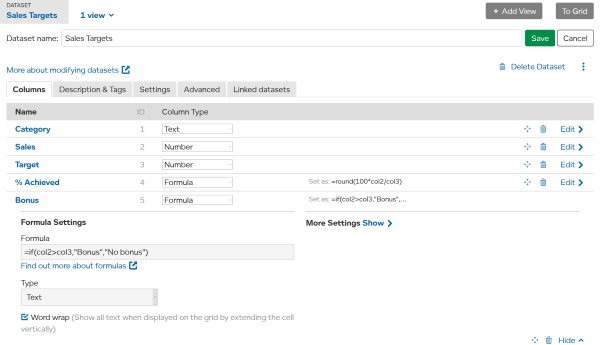 In this example, the two formulas used are
| Column | Formula |
| --- | --- |
| % Achieved | =round(100*col2/col3) |
| Bonus | =if(col2>col3,"Bonus","No bonus") |
When a formula refers to a column, use "col" and the column ID number. In the example above the ID for Sales is 2, so in the formula we use col2.
A formula can be as simple as
=100
="Hello World"
= col2 + col3
Formulas can contain numbers, text, and functions including
These functions are described in Using Formulas and Functions