LiveDataset
Home Page Categories
Home Page Categories
Categories are used on the home page to organize datasets into groups. You can have datasets organized logically so that people
Can find the right dataset moe quickly.
Are aware which other datasets are in the same area.
You might want to organize datasets by department or initiative.
Below, the categories shown are "Admin Processes", "IT Budget", "Project-Resource Management", "People", "Other datasets".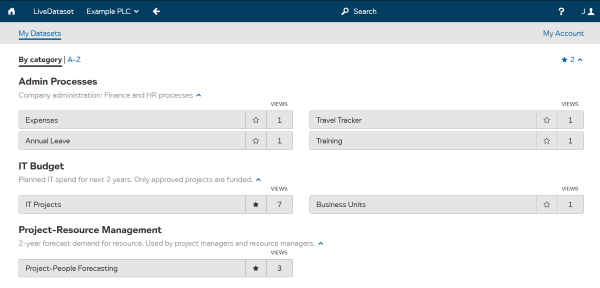 You can see descriptions for each category, by clicking on

Show description

Other datasets is a default category for datasets that have not been assigned to a category. If the use can access unassigned Other datasets is always shown as the last category.
Categories Apply Account-Wide
The same categories apply to everyone using the same account. Accounts are typically company-wide so all LiveDataset users in the same company see the same categories.
However, regular users never see empty categories. They will only see categories if they can access a dataset in that category. E.g. a user might only see categories that are company-wide or for their department.
Changes to categories can only be made by people with the Account Admin permission.
Edit Categories
If you have the Account Admin permission for the account you are using you will see a number of purple items on the home page.
[Account] Settings

for configuring your organization's account.
for adding datasets.

Edit Categories

for configuring categories.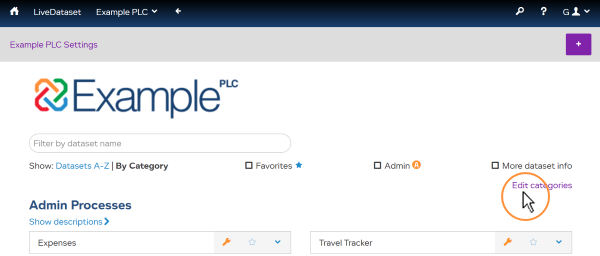 To make changes to categories, click on Edit Categories .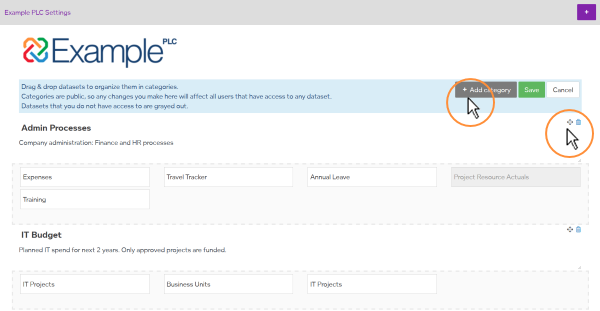 Here you can:
Add a category
Press
Then enter a "Group name" and "Group description".
Rename a category
Click on the category name and edit the name.
Edit a category description
Click on the description and edit it.
Delete a category
To the right of the category, press
Move a category
To the right of the category, press
Then click and drag the whole category up or down to its new position.
Move a dataset
Click and drag a dataset to its new position.
After making your changes press