LiveDataset
File Attachments
File Attachments
Datasets can hold file attachments as well as numeric and text data. Each attachment can be up to 25MB.
Storing attachments in a dataset can be used to
Organize documents
Control access to documents
Provide supplemental information
Include non-numeric/text data such as photographs
Show output from another business process
In the example below, documents can be stored in the "Business Case" column.
The number within () shows how many documents there are.

Working with Attachments
In the grid, double-click near the (). You will see a list of any documents, and you can:
Click on
or the filename to download.
Click

Undo delete

.
to delete the document. You will get the option to
Add attachments by clicking or dragging files into the area surrounded by dots.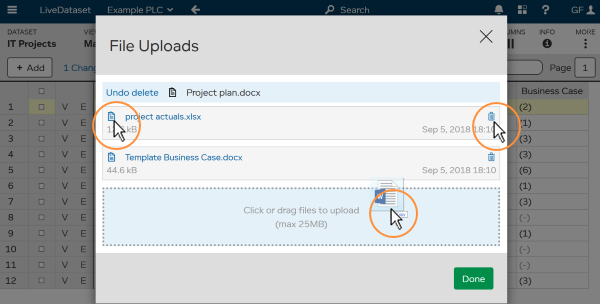 TIP Dataset designers can add columns of type "File attachment" to datasets.
TIP Dataset designers can also attach files to a dataset's description.