LiveDataset
Edit Data and Save Changes
Edit Data and Save Changes
Depending on the access you have been given, you may be able to edit data one or two ways:
Using the grid
Using a form
Using the Grid
Like using a spreadsheet, you can move around the grid by scrolling or using your arrow keys, and change data by
Entering text and numbers
Selecting values from dropdown lists
Copy and paste
Entries where you have changed data are shown with an yellow background. Changes are NOT saved automatically. This gives you the chance to review your changes and save a group of related changes at the same time.

After making changes, you will see 3 controls above the grid:
2 Changes

shows how many changes you made, click to only show changed entries.
saves your changes
discards your changes and restores previous data
See using the grid for more information.
Using a Form
On the grid, press to the left of an entry. This will open the entry in the form, ready for you to start editing. Views can been configured by an account admin to show or hide the buttons.
TIP You can also click on to view the entries using a read-only form.
The form works just like the grid except that instead of an entry being a horizontal row, it is shown in a single vertical column. Forms are particularly useful when you have many columns and want to focus on one entry at a time.
TIP Remember to press or to save your changes.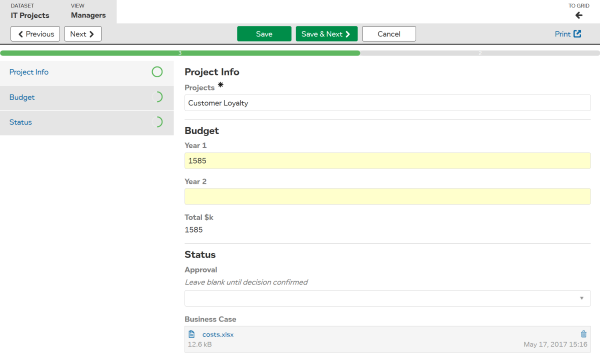 Previous / Next
and move you to an adjacent entry.
Printable
For printing entries, press . A new window will open in your browser with a copy of the current entry in a format that is better suited for printing.
Form Sections
If your dataset has a large number of columns, they can be grouped together in sections for easier navigation. In a form, sections are shown on the left with progress indicators for how complete each section is.
See using forms for more information.