LiveDataset
Add or Change Views
Add or Change Views
You need account admin access to add or modify a view, defining
What data can be accessed.
What people can do with the data.
How the data is presented.
TIP You don't need account admin access to create yourself a bookmark
Add View
To add a new view
Go to the dataset
Press

MORE

then

Modify view

.
Press

Duplicate

to create a new view as a copy of the current view.
Give the view a new name, make your changes, and .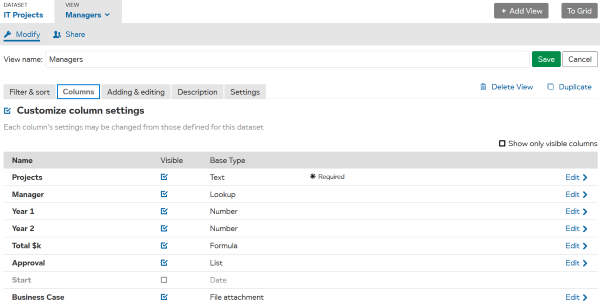 Modify View
Configure the view, using options on these tabs:
Add filters, selectors, sorting for this view.
Select

Customize column settings

to specify for this view which columns should be shown or read-only.
Use

Edit

for additional column settings: renaming, section heading, description, pinning, required.
Allow people using this view to edit, delete, or add entries — using grid or form.
Add a description to replace the dataset description or a tailored status message.
See Using Modify View for information about all the different configuration options for views.